CFFTA will continue Film Festival Screenings in different locations across the World. Additionally CFFTA will distribute the film to academic venues.
This film is an artistic statement about ART – its nature, and its significance in a world "redesigned". The philosophy and storyline are developed through the presentation of the life, times, and works of American artist, Dean Howell. It uses the "personal story" of Howell – as a metaphor – to project the "global story" of ART.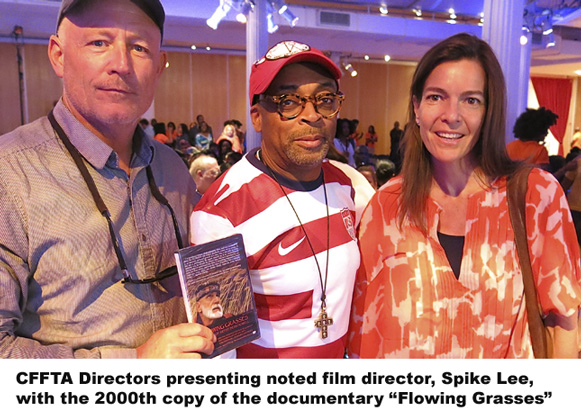 The essential message is that "Primal Fear is the front of Humankind", and that it's this fear that leads and shapes us into a "craft–like existence", rather than an "artistic" one. The film illuminates the fact that "art is not work", but rather a transcendent experience, which renders the "art object" and the "actual work" involved, as secondary components; it goes even further to redefine the Avant Garde to include the transcendent experiences of ordinary people, in addition to those of the so–called artist! Still further, it clarifies the distinction between "art" and "craft". Thus, it calls for art as a normal and dominant part of everyday life, thereby reversing our current way of living a "craft–like existence" to the "artistic" one.
How this message connects with, and defines ART, constitutes the content and beauty of this undertaking, and speaks to the question of, "How" and "If" we, in the long run, can muster the wherewithal to remain on the evolutionary chain.
The message involves the relationships of our primal selves, our intellects, our civilized ways, and our souls trying to surge toward freedom and transcendence. Howell's work, philosophy, and teachings exemplify and document the elusive message. Enhancing the message, Howell's family, friends, colleagues, teachers and students offer personal, in–depth and firsthand accounts of its affects, as encountered through Howell's teachings and personal example.
The film traces his development from his first memory, all the way through his personal life and artistic career, to his current times in Santa Fe, where he is the messenger, the subject, and principal creator of this effort. The film documents his passion, his love, and his mission to understand and promote the intrinsic values of ART!
"I am especially grateful and honored that the Christopher Foundation for the Arts" mission — to promote the arts throughout the world — will include offering the film to every college and university art department in the country… continuing to enhance and project my understanding that, art in everyday life is our clue for living… and remaining on the chain…"
"Though definitely humbling — if not daunting — I'm concerned that such a focused objective might appear self–serving! However, our progress so far — the form and content — is shaping up, and promising to be a most unusual and provocative contribution to understanding the world, and the essence of ART…therefore, it's worth taking such a risk!" — Dean Howell